Dead Presidents Pub and Restaurant
618 North Union Street
Wilmington, DE 19805
302-652-7737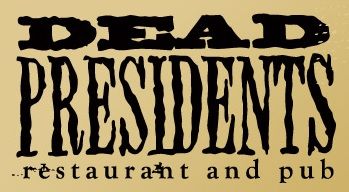 Dead Presidents Pub and Restaurant has been the place to hang out for over fifteen years. If you aren't here, or haven't been, its time to call your friends and tell them where you want to meet for great drinks and great food.
Middleburg Bank
1779 Fountain Drive
Reston, VA 20190
703-777-6327
For more than 85 years Middleburg Bank has helped individuals, families and businesses across the state meet their financial goals with a broad range of financial services. Whether you need consumer or business banking solutions, investments and trusts or home mortgages, you can turn to Middleburg Bank for personal service and strong client relationships. For banking, investments, trusts and mortgages, we are "Neighbors You Can Bank On."
Post Brothers Apartments
633 W. Rittenhouse Street
Philadelphia, PA 19144
215-253-8300
Post Brothers Apartments is Philadelphia's largest and most active vertically integrated owner, manager and builder of Philadelphia luxury apartments. As the source for newly delivered luxurious, yet affordable and environmentally friendly Philadelphia apartments in the city's most beautiful neighborhoods, our dedication to seamlessly integrating high-end finishes into revitalized Philadelphia rental apartment buildings means you can live a great life at a price you can afford. With easy access to Wissahickon Park, regional rail, and Routes 76 and 1, you will find yourself living at the apex of glamorous city life and one of the greenest areas around. Finish your day relaxing in the kind of home you thought only existed in your dreams.